Pet Welfare
Looking for Loving Homes






What is it like to Foster?
I

first became a Fosterer for Pet Welfare 3 years ago. I already had a dog of my own, Max, who although he looks quite intimidating is actually a big softie. Max gets on with all other dogs, he doesn't mind people but dogs are his first love. He is a dogs dog. Max also does not have a vicious bone in his body, although the post lady is convinced he wants to eat her!
After reading an appeal for foster carers by Pet Welfare in the local paper I considered long and hard whether it was something we could do. Max and I decided that we had room for another dog in our lives and after consultation with the rest of the family I got in touch. Max had spent quite a long time in RSPCA kennels so he knew what it was like to not have a home and he had a lot of fun to share.
A

couple of weeks later Bobby arrived he was a little whirlwind of fun and the first of Max's playmates. Bobby stayed for two weeks then went to live on a canal boat to wreak havoc on the waterways. It was really difficult to let him go because he became my own dog and I was worried about him. I just had to hold on to the belief that staying with me was better for him that staying in kennels and that by providing him with a stepping stone he had been able to go on and find a forever home.
In any case I didn't have long to worry because the same day Patch arrived. He was so scared and nervous

that he looked pink. He was shaking and very stressed. After a few days though it was as if he had been with us forever. Patch stayed for 8 months and became Max's very best friend. During Patch's stay Max ruptured his cruciate ligament so could not go for walks or play properly so Patch devised a lying down game they could play together. For hours they lay on their backs passing little tiny pieces material between them and gently playing tug of war games with tiny stuffed toys.
Whilst Patch was still with us we had another arrival. Tilly squeezed her way out of the boot of a car at

the end of my drive and wondered how on earth I was going to fit her into the house, Surprisingly Great Danes can make themselves very small! She was a lovely girl, though very silly and it was a pleasure to have her in our family for a little while, though when she ran towards you it was always advisable to stand behind a tree.
W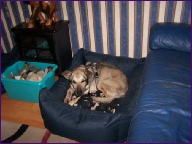 hilst waiting for Scrumpy to recover from his operation we heard about ano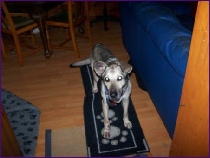 ther dog who urgently needed to be fostered, Butch had been sitting in kennels for 6 months and was not doing well. A lack of good food, exercise and no veterinary care had left him in a very poor state. When I picked him up he could not walk properly and was very weak due to muscle waistage and his ribs were clearly visible. After 2 weeks love and attention he gained weight and became much healthier. He went to the vet and received antibiotics for a wound on his leg and is now ready for a new home.
Well that is it so far. All of these dogs, and some others who didn't stick around long enough to have their photo taken, have been my dogs. I have treated all of them like my own dog. I have not felt sorry for them because the bad things that happened have been in their past and once they are mine they have started on the path to their new life. Would you feel sorry for someone winning the lottery because they used to be poor? No, of course not, and these dogs do not need our pity, they need our love and understanding. They need good food, discipline and exercise and a comfy bed.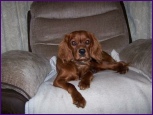 We had Redun for a week then not long before Christmas Tilly and Patch were adopted. Max had a very quiet Christmas and New Year then when we had been skiing he was ready for a new friend.
Next through the door was Ben, predictably being a Westie he was very quickly adopted but not before we had the chance to get himthoroughly dirty on the Chase. I believe his new owners bathed him the day after adoption.
Bel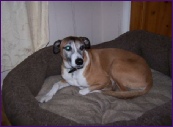 la was not quite what we were expecting. She hated us. She was so scared of people that she ran away through the snow, twice on the first afternoon. Then she retreated into her shell and sat in the corner refusing to have anything to do with anybody. She was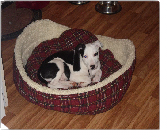 petrified of everything and everybody especially men. She didn't even want anything to do with Max. The solution was to ignore her. I attached a trailing lead to her harness so that I would not have to touch her then I left her alone. I took her for a walk and fed her and the rest of the time pretended she was not there. After about 2 weeks and with the arrival of Patch, she decided to rejoin the world and come out of her corner. Patch was 6 month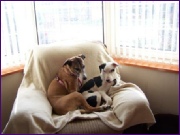 s old and in need of love and cuddles. Bella adopted him and found a reason to enjoy life again. Since then she has welcomed many a worried dog into her bed and mothered them beautifully.
That was 2 years ago and she is still with me. Today she is still nervous but very loving and obedient and great with the other dogs.
Since then we have

had
Oscar - a bit of a handful but an overgrown puppy who especially loved teenagers. Also very good to take to the front door with you!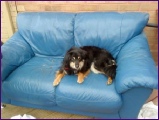 Lucky - a nervous little girl who didn't understand going for a walk, I pulled her behind me over Cannock Chase for a week before she realised walking could be fun!
H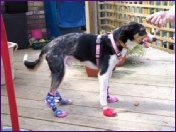 arry - arrived with no name and not much fur. He had been on the road for quite a while before he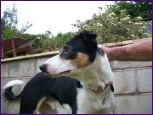 was rescued. He turned out to be a bit of an escape artist, but now he has become a very handsome collie with a lovely new owner, who has taken the time and effort to tame him.
Cheesey - A lovely boy who liked to play endlessly. He was a live wire who could walk and play al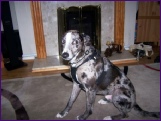 l day. We called him cheesypuff but for some reason his new owners just call him Ches. Now that he is getting the mental and physical stimulation a lurcher/collie cross needs he is much calmer.
H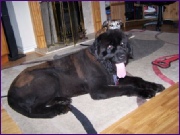 uggy arrived fresh from a breeding kennels where she had spent her life giving birth to endless litters of puppies. She was very sweet and docile, but extremely large. A pleasure to foster, but too big for my house. Huggy went to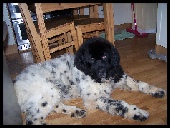 another foster home when I had Duncan, also from breeding kennels, but he was the stud. He was a gorgeous dog to look at but quite full of his own self importance. When he decided he did not want to go out down the garden I dragged him across the kitchen floor and pushed him out of the door. It was hard work but after a few encounters he decided to tow the line. My husband declared that he was as thick as a brick. Nice but dim.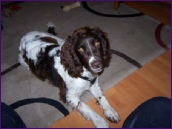 Charlie, or mad Charlie as we called him was incapable of sitting still. He had to be doing something all the time. No matter how long his walks were he was ready to go again 5 minutes later. Fortunately he was crate trained so when he got too much we put him in a crate to chill out and calm down.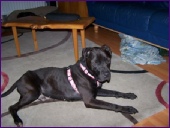 Benji was the happiest dog in the world. When he was found starving and freezing in the snow he was still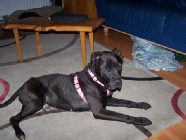 wagging his tail. He stayed for Christmas and nearly broke my heart. He was always so loving it is simply unbelievable that he could be abandoned to fend for himself in such freezing weather
C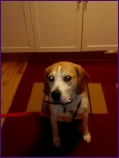 hester, or Jeremy as he was known, tried my patience to the limit. I have never known such a naughty, dominant dog. Many people told me that you could not let a beagle off the lead on Cannock Chase because you would never see it again. They were wrong. Chester came back time after time after time. When he wasn't being horrid he was very sweet and quite obedient so long as it suited him. Unexpectedly someone was willing to adopt him even though we explained what he was like.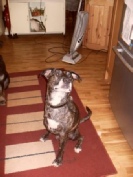 Rocky was adorable. He only had 3 legs but oodles of personality. He very quickly decided that all the toys in the house were his and we quickly went through Pet Welfare's supply of soft toys, as Rocky beheaded and unstuffed them. He was such a good boy and could walk as far as the other dogs so long as he had plenty of stops for rest and water. He loved to c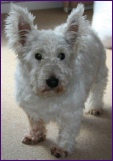 harge about in the bracken chasing rabbits and was full of life and love.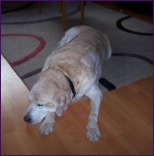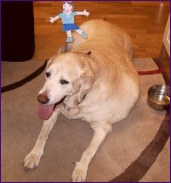 Scrumpy was 12 years old when he was handed in to us on Christmas Eve. He had huge fatty lumps, that could have been removed by a vet, which made it very difficult to live enjoyably. He could not get up from the kitchen floor and had difficulty walking and negotiating steps. I was extremely worried about his health. However he survived Christmas and lost 3kg in weight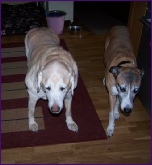 through careful eating and gentle exercise, by New Year. Scrumpy was such a lovely boy and so bright and alert that we knew he was not ready to give up on life so took the decision to have one of his lumps removed. Surgery is never a risk free option but we decided that if he made it his quality of life would be improved immensely. Thankfully Scrumpy pulled through and the vet removed a fatty lump that weighed 7kg and Scrumpy got a new lease of life. His story was completed when a lovely lady decided to adopt him and he is now living happily with his new mistress.