Bella the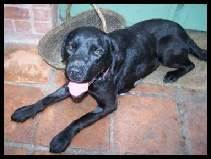 Labrador was brought to us one evening. Her owner, a farmer, had ignored her symptoms of dropping half her body weight and being sick for 5 days.
Luckily for Bella a visitor to the farm was so concerned for her that he put her in his car and brought her to us. We went out to the car to find the poor girl dying on the back seat, she was badly dehydrated and going into fits, she was fighting for her life. We got her to the vets who put her straight onto a drip, but told us she was extremely ill and they did not hold out much hope for her.
Bella remained on the drip that Thursday night, and was still alive the next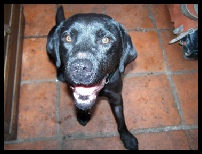 morning. She had an ultrasound and blood tests, the vet suspected either poisoning, womb infection or leptospirosis. It was decided that she would remain on the drip and that if and when she was strong enough to survive an operation then they would go ahead. At 7 PM on the Friday night her condition deteriorated and she started fitting again. The vet decided the operation would have to go ahead because otherwise she would die anyway. Again her life hung in the balance. The vet rang at 9 PM to say she had survived the operation and a large chunk of wood had been found inside her bowel. Her intestines were damaged, and it was still touch and go for her. But good old Bella wanted to live.
She remained on the drip Saturday and on Sunday morning she took her first bit of food. By Monday morning she was feeling a lot better and on Tuesday evening we could all stop holding our breath she was discharged.
Bella went straight to a foster home to be nursed back to health.
The vet bill for saving Bella's life was £893.00 and surprise surprise the farmer
didn't want to pay it. He would rather breed puppies from his dogs and profit
from them than take responsibility for them if they become ill and need
veterinary treatment. He had tried to breed from Bella 3 weeks before she
became ill "but she didn't take" good old Bella.