Sky, 2nd December 2008
The sad passing of Sky was a terrible shock to everyone at Pet Welfare. This very special 2 year Old Newfoundland came into our care in October, she had spent all of her life in kennels, without proper care and attention and was generally in poor condition. All of us wanted to give her the life and future which she deserved. Sky was placed into a foster home with Rosie a volunteer, and for the first time Sky received the love and care she had never known and even though she had previously been neglected Sky gave back her love unconditionally.
N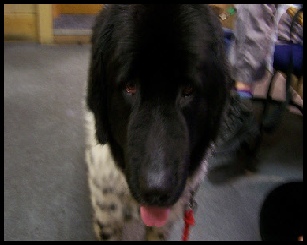 ot only was Sky physically beautiful, but her sweet and gentle nature shone out to all. For this reason we decided she would be ideal to meet the Public at our fundraising events in Stafford town centre "Sky became a Star". Adored by everyone and in turn thriving on all the attention given, Sky's enjoyment of life seemed to be improving daily. Although she was underweight we did not have any reason for concern, until unexpectedly Rosie rang concerned that Sky was vomiting and passing blood. Sky spent the weekend in the vets under investigation, on the Monday Sky had an explorative operation when it was discovered she had cancer with a 10% survival chance. With this diagnosis and our trusted vets advice we reached the difficult decision to allow her to go peacefully whilst she was still under the anaesthetic.
We were all heartbroken, Sky had only been with us for a short while, but her beautiful gentle spirit had made a great impression. None of us at Pet Welfare could foresee the future for Sky, but when she came into our care we all had hope and this we will take as an inspiration for carrying on the rescue work we do, and that Sky at least knew what kindness was at last, and she passed from this world in the hands of people who loved her, and although there is a lot of sadness at Sky's passing, we cherish happy memories too.
Our animal friends may leave us all too soon......but their footprints will dance gently on in our hearts forever.